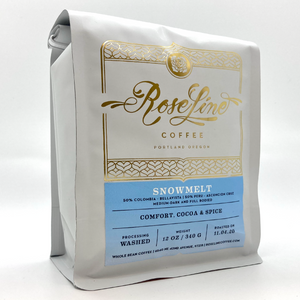 Notes:
Comfort, Cocoa, Spice
Profile:
Medium-Dark and Full Bodied
Current Blend: 
50% El Salvador - El Borbollon | 50% Ethiopia - Uraga
Processing:
Fully Washed

Snowmelt is back! This perennial winter coffee is roasted a little darker than our other offerings and is the perfect gift for someone new to specialty coffee or for those who enjoy a darker roast profile. Snowmelt is also the coffee to bring along when attending your next family gathering to thaw out any icy situations that may be encountered.
---